Boost your IQ with the world's first four way milking cluster.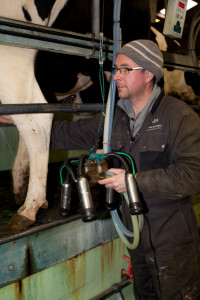 The IQ Cluster from GEA Farm Technologies, collects milk in four separate guide chambers.  This allows each individual teat to be milked separately – effectively isolating each quarter, helping prevent intra-mammary cross-infection, improving udder health, operator efficiency, milk quality, yield and milking time.
The innovative four way cluster design of the IQ won the RABDF Prince Phillip Award 2009 and is the world's first cluster of its kind.  More and more farmers are reaping the benefits of the IQ as it is one of helping dairy farmers to improve their herd health and milk quality in an affordable way.
Farmer Michael King at Kingspool farm said:  "We're really pleased with the IQ Clusters, they stay on extremely well with no liner slip.  They are better for the cows, better for us and better for our milk buyer as our cell counts have improved. I would definitely recommend them to other farmers."