Reduced milking times, improved cow management and hygiene are just some of the benefits father and son Gilmour and Kevin Lawrie have seen in the first four months since installing a GEA Farm Technologies 30/30 Global 90i rapid exit parlour with feeding.
A new 120ft by 50ft building at Sandyford Farm, Monkton, Ayr, incorporates the new parlour, collecting yard, offices and viewing gallery designed not only for herd health, welfare and productivity but also, along with milk buyer Nestle, Girvan, to showcase milk production to the general public, including schoolchildren.Gilmour took on the farm in 2001, establishing the high genetic blended pedigree Ayrshire herd from 30 Ayrshire cows and today half the Brieryside cows are Red and White breeding with 227 cows currently milking and plans to increase total herd numbers to 280 cows.
With the farm came a 16/16 herringbone parlour which was subsequently upgraded to a 24/24.
Increasing herd numbers coincided with Kevin returning to work at home after gaining a degree in sports coaching and development, and production has increased through breeding, feeding and management.
Conscious of his roots within Ayrshire cattle breeding, Gilmour is keen to use the breed and his ideal animal is a 50-50 Ayrshire Red Holstein cross. The herd is registered with Holstein UK and the Ayrshire Cattle Society and its Red Book.
The new dairy and parlour were part of planned ongoing improvements including extra housing and a silage pit for maize at Sandyford Farm, and the Lawrie's became interested in GEA's German technology through Scott Baird, sales manager for DairyFlow, GEA's main Scottish dealer, based in Kilmarnock.
"Both Scott's and the company's attention to detail and then seeing a similar parlour in operation in Cheshire sold it for me," said Gilmour.
"We believe the GEA WestfaliaSurge equipment was the only choice for us because of the technology and reputation of the brand and dealership in this area."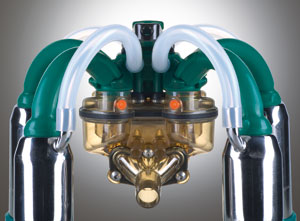 Milk, which is sold at a premium to First Milk in Girvan on a Nestle contract goes to make chocolate crumb to coat Kit Kat biscuits, has always been in the top bracket  for cell counts and hygiene. However, in just four months the new parlour's IQ clusters have already made a difference.
The IQ cluster is designed to move milk from each quarter with minimum turbulence, for faster milk out. In addition it has four separate guide chambers to prevent teat-to-teat cross contamination.
Its new vacuum control is designed to keep contaminants out of the milk line. A small stainless steel ball is located in each guide chamber of the bowl blocks the flow of air when the cups are not attached to the teats, so unwanted material is not sucked into the milk line. Plus if the cups are kicked off during milking the vacuum automatically shuts off to prevent contaminants entering the milk supply.
"In the last four months we have only tubed two cows out of 227 milking for mastitis. Cell counts are running at 89 and bactoscans are down to 9," said Gilmour. "For some time we have been bedding the cows twice a day with a Bobman dispenser so we must put the improvements down to the new parlour. I believe the cows are milking out better as well."
Another major benefit has been in reduced milking time saving 3/4 hour at each of the twice daily milkings. The performance from the parlour is encouraging the Lawrie's to consider increasing the milking to three times a day this summer.
The new rapid exit parlour has in-parlour feeders which tops up the diet to a maximum of 8kg of concentrate. The main diet is a TMR of grass silage, maize and a blend, fed to 32 litres for the high yielders and 26 litres for the mid to low yielders.
High yielders are giving up to 60kg a day with an average across all cows and heifers of 29kg a day of milk sold. Rolling average yields are at 9,300kg at 4.3% butterfat and 3.48% protein and on the new system, coupled with continuing improvements in herd genetics, Gilmore expects that to steadily increase.
The parlour is fitted with the latest management technology, including Metatron P21 control boxes which show individual cow data from milk flow to milk quality, forwarding all information directly to the herd management programme DairyPlan.
The animals' activity is monitored with pedometers; Gilmour, Kevin and their herdsman Graham Reid are easily able to pick up missed and silent heats at milking time.
"It is making getting the cows back in calf much easier. We had 34 cows which were 42-60 days post calving PD-ed last month and 28 were shown in calf," said Gilmour, who is expecting this to result in a reduced calving index which is currently running at 418 days.
"One of my biggest concerns was that the cows would not adapt to the parlour but to my surprise they did without a problem," he added.
Gilmour is passionate about teaching the general public and school children in particular, about dairy farming and he has been pleased to have input from First Milk, Dairyflow and Nestle with promotional boards in the new viewing gallery upstairs.
Gilmour, who farms a total of 1,100 acres in partnership with his brother Jim, was able to take on a further 300 tenanted acres several years ago to add to the 350 acres at Sandyford which is mainly grassland used for silage making on two to three year leys apart from 30 acres of potatoes.
The rented ground is predominantly arable and this allows up to 70 acres of maize to be grown in rotation with winter wheat and spring barley, which are used for the cows and the surplus is sold to Harbro which also supplies feed and director Neil Kidd has had a big impact on formulating rations which are now handled by Stuart Cameron.
SandyFord Farm will be hosting an open day on 26th April 2014.  Click here to book your place.