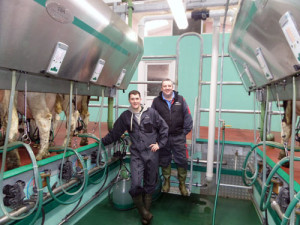 Recently joining the herd is Gilmour and Kevin Lawrie of Sandyford Farm, who said:
"We are delighted with our recently installed GEA 30/30 rapid exit parlour with feeding.  The new parlour has reduced our milking time and we are really pleased with the IQ Clusters which have helped reduce cell counts.
"We are very impressed with the heat detection system especially when picking up silent heats which we would have otherwise missed.
"We feel the GEA WestfaliaSurge equipment was the only choice for us due to the technology and reputation of the brand and dealership in this area."
See the Sandyford Farm photo gallery