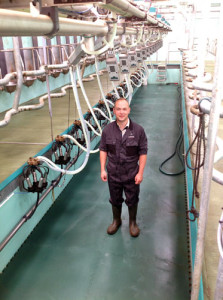 Milking 100 cows in Gatehead, Craig Cochrane's family at Nether Craig Farm had spent the past 19 years milking in an Alfa Laval jar parlour.
Having moved from milking Friesians to Holsteins the cows were getting too large for the parlour and so they decided it was time to upgrade.
Deciding on a 14/28 Euroclass 800 from GEA Farm Technologies the Cochrane's went with the P21 Metatron control boxes, Metatron milk meters, Rescounter II auto ID & activity monitoring, segregation gate and DairyPlan herd management system.
"The AutoSelect segregation gate is handy for foot trimming.  All we have to do is press the button and the cows that need to be looked at are there waiting for me" said Craig.
"The Rescounter IIs mean we can now see the cows that are in heat as well as those with high cell counts.  The IQ Clusters are easy to put on the cows too and the Dairyplan Herd Management system links up our parlour to the computer so we can see everything we need to know about our herd.  All in all, the parlour is great to operate and we have reduced milking times by an hour at each milking!
"We are really pleased with DairyFlow too as the service was excellent. The stall work was finished on time and they are pretty local too, so whenever we need anything it isn't too far to go.
"We all took to the parlour quickly including the cows and would recommend other farmers to use GEA and DairyFlow because they are a great company to work with and the products are of a good quality and suit our needs."