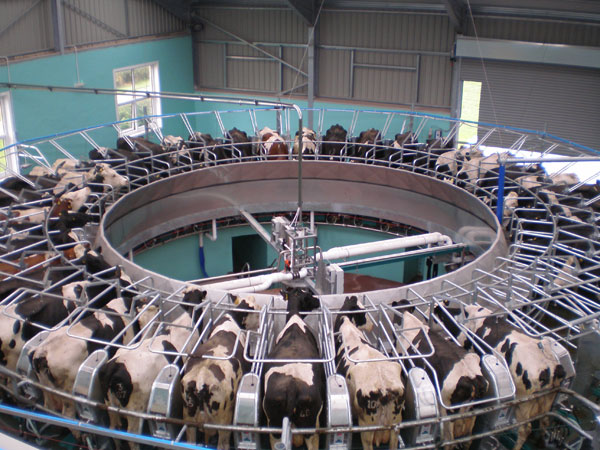 Father and son team Johnny and Alan Mackie milk 280 Holstein cows at Shotlinn Farm just outside Strathaven. The herd was being milked through a 20/20 Westfalia Surge Metatron 12 parlour which had served them well for 17 years however milking was taking nearly six hours each end of the day and stress levels were running high for both the cows and operators.
Something had to give so it was decided that an investment in the shape of a GEA 40 Point AutoRotor PerFormer external rotary parlour was needed, complete with milk meters, sampling, auto identification, heat activity monitoring, segregation gate and 15,000 litre TCool bulk milk tank with ExtraHeat heat recovery system.
This is all featured in a new shed 70ft wide by 105ft long which incorporates the collecting area complete with automatic backing gate. The rotary was milked in on 30th July and cows took to it incredibly quickly and made it quite clear that they were more than happy with their new system.
''They weren't the only ones'' says Johnny Mackie. ''We are delighted with our new parlour and overall system, it has cut milking time from nearly 6 hours to 1 hour 40 minutes. We have our lives back and are seeing huge benefits with the new parlour and all the automation which gives us precise information and detail on every cow in the herd.
''Yes it was a big investment for us but the quality of the GEA equipment is clear and our old parlour had served us very well and definitely didn't owe us anything. DairyFlow has always looked after us and the installation went like clockwork, a big credit to the engineers involved.''
This investment has evidently changed the Mackie's way of life by improving milking time, cow health and overall herd management and will serve them well for many years to come.