Boosting your IQ has never been easier as the award winning IQ Cluster is, for a limited time only, available at no extra cost on all new GEA parlours.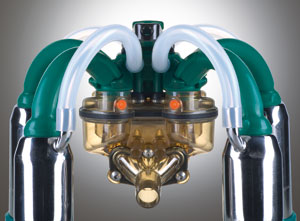 The world's first four way milking cluster, the IQ, collects milk in four separate guide chambers.  This allows each individual teat to be milked separately – effectively isolating each quarter, helping prevent intra-mammary cross-infection, improving udder health, operator efficiency, milk quality, yield and milking time.
Commercial Manager at GEA Farm Technologies, David Wenner, said:  "The innovative four way cluster design of the IQ won the RABDF Prince Phillip Award 2009 and is the world's first cluster of its kind.  More and more farmers are reaping the benefits of the IQ and the fact that we have been able to make the Cluster a standard fixture on all GEA parlours is part of our commitment to help dairy farmers improve their herd health and milk quality in an affordable way – So there is no excuse for all other dairy farmers to benefit as well."
Call us on 01563 532111 or send us an email now for more information.