If you could choose anywhere in Britain to dairy farm, the chances are you wouldn't choose to farm where the Waddell's farm.
With 1,000 acres some 850 feet above sea level at Dewshill farm, Salsburgh, North Lanarkshire, Scotland the family of Alec and Elma, and their sons Andrew and Robert run one of the highest located farms in the UK. There may be some farmers milking cows at a higher altitude, but there won't be many.
Dairying, therefore, is tough at the best of times at Dewshill, especially so when the buildings and parlour have long since seen their best years.
But being fifth generation farmers on the same farm, though, there's obviously grit in them there Waddell genes. And also a love of dairying. Careful breeding has resulted in a great herd of largely Canadian bred cows, and although the buildings and old byre-type parlour really had come to the end of their days quitting just wasn't an option for the sons.
"It's a very hard place to farm here, with the average quality land, the weather, and the long winter. But my brother and I wanted to carry on, no question," says Andrew.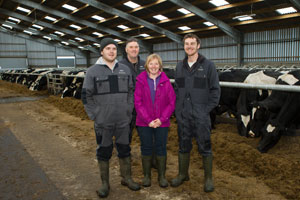 They decided that if they were to stay in dairying, a complete lock, stock and barrel investment would be necessary – including a new building for the herd's 185 milkers and for some of the dry cows, a parlour with all the trimmings, and new out of parlour feeders to help maintain yields at the 9,500 litre average. Planning took a year. The objective was to build a shed with all of the creature comforts necessary to ensure good health and welfare. This included plenty of natural and LED roof lights, good ventilation, deep sand beds, brushes and wide passage ways. In September last year the 220ft x 112ft building was duly completed. It has enough cubicle space to cater for a planned expansion to 200 milkers in the future and the capacity to hold six months worth of slurry beneath it.
"We planned everything around the cows – the size of the building, the layout, where the parlour would go, the separation gates, foot baths and the slurry store capacity."
The chosen parlour was a 24:24 GEA Farm Technologies herringbone with feeders, plus auto identification, the industry-leading Metatron P21 milking point control (which gives a full view of each cow's status at each milking point), the award winning IQ clusters (that reduces the risk of spreading mastitis infection and thus improves milk quality) and a full auto segregation system. DairyFlow from Kilmaurs, Kilmarnock won the deal because of its value for money, explains Andrew. "They weren't the cheapest by any means but the GEA equipment was substantial kit and the best for the money. The Sales Manager, Scott Baird, had an excellent attitude and couldn't do enough for us," he adds. "We also spoke to other farmers who had a similar parlour and they were very happy with them."
Everything was finished by August 2012 and the difference the investment has made has, quite simply, "changed our lives", according to Elma. Whereas milking took two hours each time for 80 cows it now takes 1 hour 40 minutes for 186 cows, with 1.5 people in the parlour. Milking with just one person is easily possible, but there's another half a job to do at each milking with the calves. An extra pair of hands in and around the parlour helps to speed-up cow flow, teat cleaning and putting on the clusters.
The regular 12-hour milking interval and better facilities have resulted in a three to four litre increase in milk yields too, says Andrew. That, plus more cows being milked in a shorter time, has more than doubled the amount of milk produced per labour unit on the farm. Cell counts have also reduced – and are down from over 200 to between 100 and 200. Bactoscans are down from 30 to under 10.
"The parlour is working very well indeed, we love it. It's excellent to work in, the cow flow is great, and the P21s display meters tell us everything we need to know and milk quality has improved. It has made a huge difference to the cows and to us. We have no complaints at all," Andrew adds.
However, the Waddell's root and branch investment in their facility was only made possible thanks to the commitment of the Scottish Government through its Rural Development Programme, as the farm received a substantial grant which helped pay for it all. Had it not, then the family would not have invested so heavily in one go, and the herd's expansion would have been slower.
"Our investment is a substantial commitment to dairying, and we have to thank the grant scheme for helping to make it possible," says Andrew. "It has helped to transform not only our farm but our lives too."