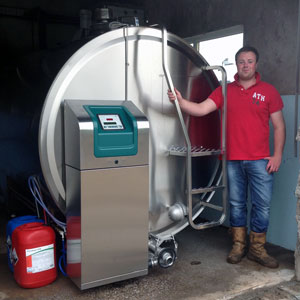 George Halley and his son Alan farm at Kilbank Farm in Kirkfieldbank, Lanark and have recently purchased a 5,000Litre GEA TCool bulk milk tank due to their existing tank failing to cope with current milk production and proving to be unreliable and inefficient to run, taking more than an hour to cool the milk.
Since buying the tank four months ago George has never looked back and is "delighted" with it.
George said:  "The tank is fantastic!  We didn't want to buy a second hand tank and are really pleased that we went with the GEA TCool tank.  It is highly efficient, the milk is down to 3° by the time we are finished the milking, which was impossible to achieve with our previous tank.
"Another huge benefit is the digital dipstick, which measures the volume of milk in the tank to 0.2%.  The tank is also linked to the farm office computer, allowing tank cooling and cleaning performance to be monitored on a continuous and easily viewable display."