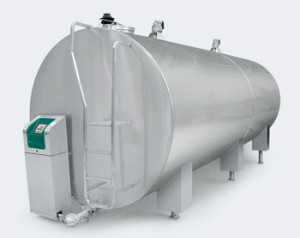 Milk cooling is an important part of the process to deliver high quality milk to the dairy. Fast cooling of the milk to 4°C helps to minimise bacterial growth, keeping the bactoscan low and maximising the milk price. This needs to be achieved using the minimum amount of energy if costs are going to be kept in check and milk production to be profitable.
DairyFlow supply and fit a range of milk refrigeration equipment from GEA Farm Technologies including:
We can advise on the full milk cooling system to meet your future objectives for the herd, including the capacity of tank you will need, the size of the compressors required along with energy saving systems to reduce your fuel bills.
DairyFlow services and repairs most makes of bulk milk tank, and offers service and maintenance contracts to ensure that the efficiency of the equipment is maintained consistently.
For further information on milk cooling call DairyFlow on 01563 532111 or send us an email.