See better for less with AniLEDLights!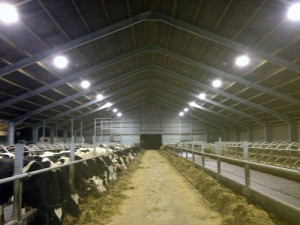 Energy efficient lights designed for dairy cow buildings
Use 70% less energy than conventional lights
Can be dimmed when there is plenty of natural daylight to save even more energy
Lower maintenance costs due to exceptional longevity (60,000 hours) and vibration / shock-resistance
Provide superior quality light that improves cow well-being
Increases yields.
Increase Comfort and Yield
A recent study by Oklahoma State University found that replacing fluorescent lights in dairy cow housing with LED lights increased milk yields by up to 6%.
LED light is of superior quality, being softer and more akin to natural daylight. Research suggests that this reduces stress and improves cow well-being, which results in an increase of yields.
LED lights produce no ultraviolet light, so don't attract flies like conventional lights.  Unlike conventional lights, they switch on and off instantly and don't flicker. The natural light allows dairy workers to see the cows clearly and identify any injuries or welfare issues more quickly.
Reduce Energy Costs
AniLEDLights use 70% less energy than conventional lights, and can be dimmed when there is plenty of natural daylight to save even more energy.
By replacing a typical 400W sodium light used on average for 12 hours a day with an equivalent LED light we estimate you will save around £130 per year PER LIGHT in electricity at current rates (December 2012).
Reduce Maintenance Costs
The lights burn for up to 60,000 hours – if they are used for an average of 16 hours a day, that is over 10 years before they need to be changed.  They are IP66 rated and are vibration and shock proof so once installed, they need no ongoing maintenance.
Proven and Reliable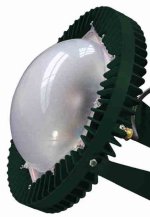 The lights are manufactured in the UK and come with a ten year warranty.  They are already being used successfully in dairy farms across mainland Europe and North America.
AniLEDLights have unique thermal and power management systems. A special coating ensures that they operate efficiently in an agricultural environment and do not get too hot.  Without this, the LED can quickly dim or fail completely.  Cheap, foreign LED lights or those designed for clean environments are a false economy – they are very unlikely to last for even five years and any warranty may be void if used in an agricultural setting.
Technical Support and Costings
DairyFlow can produce a computer model for your barn showing:
 how many lights you will need for optimum performance
 where they should be placed
 the energy saving you can expect.
For further information please call DairyFlow on 01563 532111 or send us an email.