Improved cow comfort and welfare
Research as shown that cows that use a brush can produce up to 3.5% more milk. Not only do cleaner cows help to improve hygiene levels generally, but when cows have clean skin they can release heat easier to cool themselves down. Cow brushes remove loose hair and dead skin, and also parasites that may be present, and cows love them!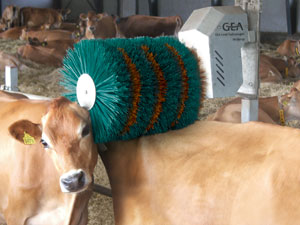 We offer a choice of two cow brushes from GEA Farm Technologies – the E-brush and the M-brush. Both include the following features:
Long and short bristles maximise brushing efficiency
Bristles made of wear-resistant nylon to improve the longevity of the brush
Automatically reversed startup direction maximises brush life
The plastic shaft that holds the brush will break when overloaded to prevent damage to the brush and cow
Safety further ensured through guards for the motor and gear box and insulation to all components
Robust gear box, galvanised main frame and shock absorbers
Optional clamps and fasteners enable clamping onto cubicle frames as well as wall-mounting.
The E-Brush
Rotating horizontal
cow brush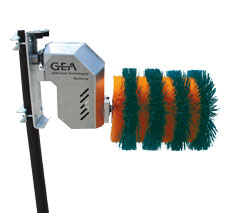 Compact pendulum style enables easy integration into most livestock buildings
The M-Brush
Rotating angled
cow brush
Angled construction allows cows to groom their sides and flanks as well as their backs
As well as supply and fitting, we can advise you regarding the type of brush(es) that will suit your building and stock, and the best position for installation.
Download leaflet on cow brushes.
For further information please call DairyFlow on 01563 532111 or send us an email.