In my latest blog I will look at the importance of housing hygiene.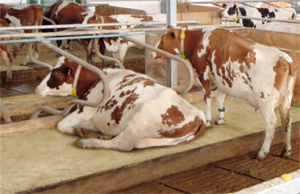 Over the last 20 years or so, environmental bacteria, such as E.Coli and Strep.uberis, have taken a firm hold on being the major cause of mastitis and high cell counts in dairy herds in the UK. The main area for the cow to pick up these pathogens is in the housing, in particular the hind area of the cubicle bed. Milk leakage is particularly an issue in high yielding herds.
Factors that influence housing hygiene are:
Stocking density
Moisture and ventilation
Weather
Storage of bedding materials
Frequency of renewing bedding
Frequency of cleaning passageways
Cubicles
Regular use of a quality bedding conditioner.
A clean and comfortable housing environment is vital in the control of mastitis and the production of quality milk. Winter housing provides much closer cow to cow contact, therefore encouraging cross contamination and also generally coincides with damp weather.
Over the summer months, any cubicle maintenance should be attended to, including maintenance to any pitting or wear on the cubicle base, prior to bedding materials being renewed. If pressure washing the beds, this should be done early enough to allow the beds to dry out completely before the cows are rehoused.
For bacterial growth to occur, four factors must be present:
Warmth
Moisture
A mid pH value
Food
Therefore if any one of these can be controlled then bacterial growth will be reduced, for example clean dry bedding materials. Ideally daily bedding renewal is recommended at least once, if not twice a day and at milking time so that cows return to clean dry cubicles.
Different types of bedding available
Straw
Should be stored under cover, in clean, dry conditions. It is an organic material and will support bacterial growth. Wet or damp straw is especially associated with Strep.Uberis mastitis.
Sand
Being inert this is probably the best bedding material, however it can cause problems with slurry systems. It is inorganic, therefore will not support bacterial growth as long as it is kept clean and dry. Dirty sand should be changed regularly, and sand which turns black is contaminated with milk or faeces and should be dug out and changed. Store undercover, in clean, dry conditions.
Shavings and sawdust 
Again being organic, these products will support bacterial growth and should be bought and kept clean and dry. Kiln dried only should be used.
Whatever the bedding type, generous amounts are the key to keeping cows clean, particularly with materials such as straw or sawdust. The actual amount depends on the type of bed, cubicle design, whether mats and mattresses are involved and so on.
Regardless of whether mats or mattresses are used, a small amount of bedding material should always be present to absorb moisture, both from the cows skin, the environment, and any milk leakage. Mats and mattresses should also fit right up to the cubicle edge to prevent cows lying in any damp. Bedding conditioners can also be added to help dry up moisture and provide disinfectant properties. These should have a small layer of bedding added on top to prevent direct contact with the teat.
Stocking density
Farm assurance requirements ask for no more than 90% cubicle occupancy in most cases i.e. a minimum of 10% more cubicles than cows. Cubicles should be clean and dry and large enough for the cow. (8ft long by 4ft wide is a good average). Cows standing for long periods due to uncomfortable cubicles will lead to lameness and stress and increase the risk of mastitis. A cow needs enough length to be able to extend her neck to cud and also lunge to stand up, adequate width is also a factor here. However, if the cubicles are too wide and/or long this will lead to beds being soiled.
Dry cows and fresh calvers are often kept in loose housing yards and space here is critical as these cows are at their most vulnerable to contracting new mastitis infections, so 8 – 10 sq metres per cow is recommended.
Ventilation
Cows produce huge amounts of fluid and heat, which provides perfect bacterial growth conditions for mastitis organisms.  An average cow will produce around 50 litres of fluid per day (respiration, faeces and urine). Building ventilation should therefore not be under estimated. Cows are housed to protect the land, not to keep them warm, therefore the more through draft in a cubicle shed the better. If you can smell ammonia or condensation is dripping then ventilation is inadequate. Adequate drainage is also essential as standing water increases humidity.
Further actions that can be taken to assist professional housing management, and reduce environmental pathogens include, regular milking machine servicing, a good pre–milking routine and optimised housing hygiene with a good quality bedding conditioner such as ZorbiSan Active.
ZorbiSan Active:
Is a totally natural product with a PH of 4.5
Contains a Biocide to combat bacterial growth
Has excellent moisture absorption of 180–200%
Bonds with Ammonium to produce a better housing environment
Has an optimum particle size meaning it's dust free but free flowing
Is kind to teat skin
Has a fast drying effect leading to better hoof health
Disturbs fly larvae growth.  Less flies = better milk yield
Has a low usage rate – 50g/cow per day and can be added whilst cows are housed.
Zorb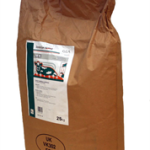 iSan Active can be used with all bedding types including straw, sawdust or sand and can be used on cubicles, mats and mattresses in loose housing, calf and calving pens. It can also be used around out of parlour feeders to absorb moisture and can be used for cows, calves, sheep, goats and poultry.
To find out more contact me on 07714 772 330.