Kingshay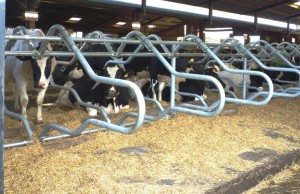 together with GEA Farm Technologies have revolutionised cow comfort with their new made-to-measure cubicle system.
The M2M cow cubicle, which is available from DairyFlow, is a patented design tested and developed by Kingshay, the Independent Dairy Specialists, together with GEA Farm Technologies Royal De Boer.
Duncan Forbes, Managing Director at Kingshay, said:  "The M2M design was developed after extensive research into the key elements that make a comfortable cubicle, including clear forward lunging space and a neck rail that can be adjusted to the size of the cow."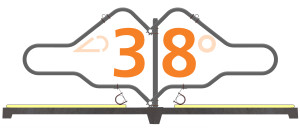 The unique 38º angle provides simultaneous adjustment for both height and length and allows optimum space for cows to lunge forward and sideways as they go in and out of the cubicle.
"As cows get bigger they not only get longer but also taller so the unique sloping top rail of the cubicle division ensures that the neck rail can be positioned proportionately both at the correct distance from the heelstone and the height above the bed for the size of the animals."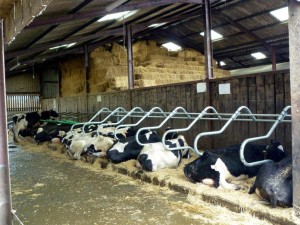 The M2M not only provides superior cow comfort by providing the best positioning for the cows while lying and standing but its flexible design means it can be used in any situation too, making it the first choice for deep litter or mattress bedding systems.
There are a range of cubicles on the market to choose from, none of which offer the flexibility that the patented M2M does or has had the specialist knowledge of Kingshay helping with the development.