With the demand for iodine outweighing supply, dairy chemical hygiene specialists, Agroserve and GEA Farm Technologies have developed a range of lactic acid teat care products as an alternative to iodine.
Agroserve's LactosprayAll-Ways and Lactodip are formulated with enhanced lactic acid, offering superior disinfection and skin conditioning.  Find out more here.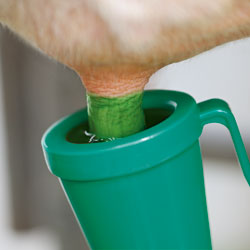 GEA Farm Technologies' SalvoSpray and SalvoDip offer an excellent disinfection capacity thanks to the LaXplosion complex, are ready to use, have low drip due to its thick consistency and have the top quality six-fold care complex to keep teats smooth and supple.
SPECIAL OFFER
Whenever you buy a 25l, 200l or IBC of either the Lacto or Salvo range you can collect acorns/racing cows to exchange for either an Agroserve or GEA item of clothing. (Please note racing cows and acorns cannot be mixed)
Acorns/racing cows can be exchanged for the following items:
• A woolly hat = 2 acorns/racing cows
• Body warmer = 16 acorns/racing cows
• Jacket = 32 acorns/racing cows
Offer ends on 29th August 2014 and vouchers can be redeemed up until 31st October 2014.