A happy cow is a more productive cow and with GEA Farm Technologies range of cubicles and brushes, available from DairyFlow, improving your cow's welfare and boosting yields, has never been easier.
Cows spend approximately 14 hours a day lying down, and as cows produce milk when they are lying down the more comfortable they are in the cubicle the better.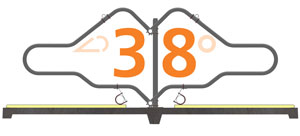 The new M2M cow cubicle, developed by Kingshay together with GEA Farm Technologies, has a unique 38º angle which provides simultaneous adjustment for both height and length and allows optimum space for cows to lunge forward and sideways as they go in and out of the cubicle.
The M2M not only provides superior cow comfort by providing the best positioning for the cows while lying and standing but its flexible design means it can be used in any situation too, making it the first choice for deep litter or mattress bedding systems.
Grooming is also of considerable importance both biologically and socially.  Brushing the skin removes dirt and improves circulation keeping cows calm and happy which can increase milk yields – Research has shown that cows that use a brush can produce up to 3.5% more milk.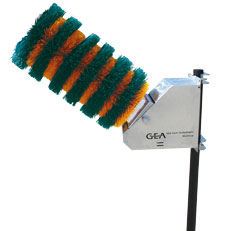 The horizontal E-Brush and angled M-Brush are powered by an electric motor and rotate when the cow rubs up against them.  Made from strong wear-resistant nylon bristles the brushes have a robust structure which can withstand the forces yielded by cows and since they provide some resistance, the cows are able to apply pressure without pushing the brushes out of their reach.
Scott Baird, Sales Manager at DairyFlow, said "Not only do we provide cubicles and brushes but we offer an extensive range of farm equipment suitable for all dairy sheds ranging from water troughs, mattresses slurry scrapers, automatic feeding systems and more.  Visit us at the Agricultural Buildings Show to find out what we can do for you."
We will also have our range of AniLED lights on display, which according to a recent dairy study by Oklahoma State University have been proven to increase yields by up to 6%.